My husband and I stopped in at Redwood* in Montavilla yesterday, after taking a tour of a possible daycare in the area. We're kinda busy these days, and we're thinking of dropping off the kiddo a few mornings a week. As soon as the owner started talking, the little one's lower lip started to quiver. A walk around the outdoor playhouse and a peek at the bunnies improved his mood, until we walked past an open bin of balls. "BA!" "It's time to go, dude."  We packed him into the car seat, mourning all the balls left unplayed-with.
But he liked Redwood.
We ordered the corn and cheddar fritters, which were not as cheddary as I would have liked, but my cheese bar is very high. They came out fairly dark, with a chili vinegar that cut through the fat of the fried balls. The kid ate them up.
My husband got the veggie burger (with yams, peanuts, oats, cumin, cilantro per the menu) and fries, while I got the roasted veggie sandwich with salad. A confession: this is the third time I've gotten the roasted veggie sandwich at this place. I don't think I've ever gotten anything else.
I know: you've had a million roasted vegetable sandwiches in your vegetarian life, and only a few of them were worth eating. This one? It's good. The vegetables are actually roasted, but still have texture. Whole basil leaves pop against the chunks of flavorful goat cheese, and the sauce on mine (listed as balsamic vinaigrette on the menu, but it was a sweet green sauce) stood up to and complimented the eggplant, zucchini, peppers, and fennel. The chef here competed on a sandwich-themed episode of Chopped, and she knows how to make one. Half of my sandwich was deconstructed to try to tempt the toddler – he used to love peppers, I swear – but the other held up. No eggplant trying to escape at every bite.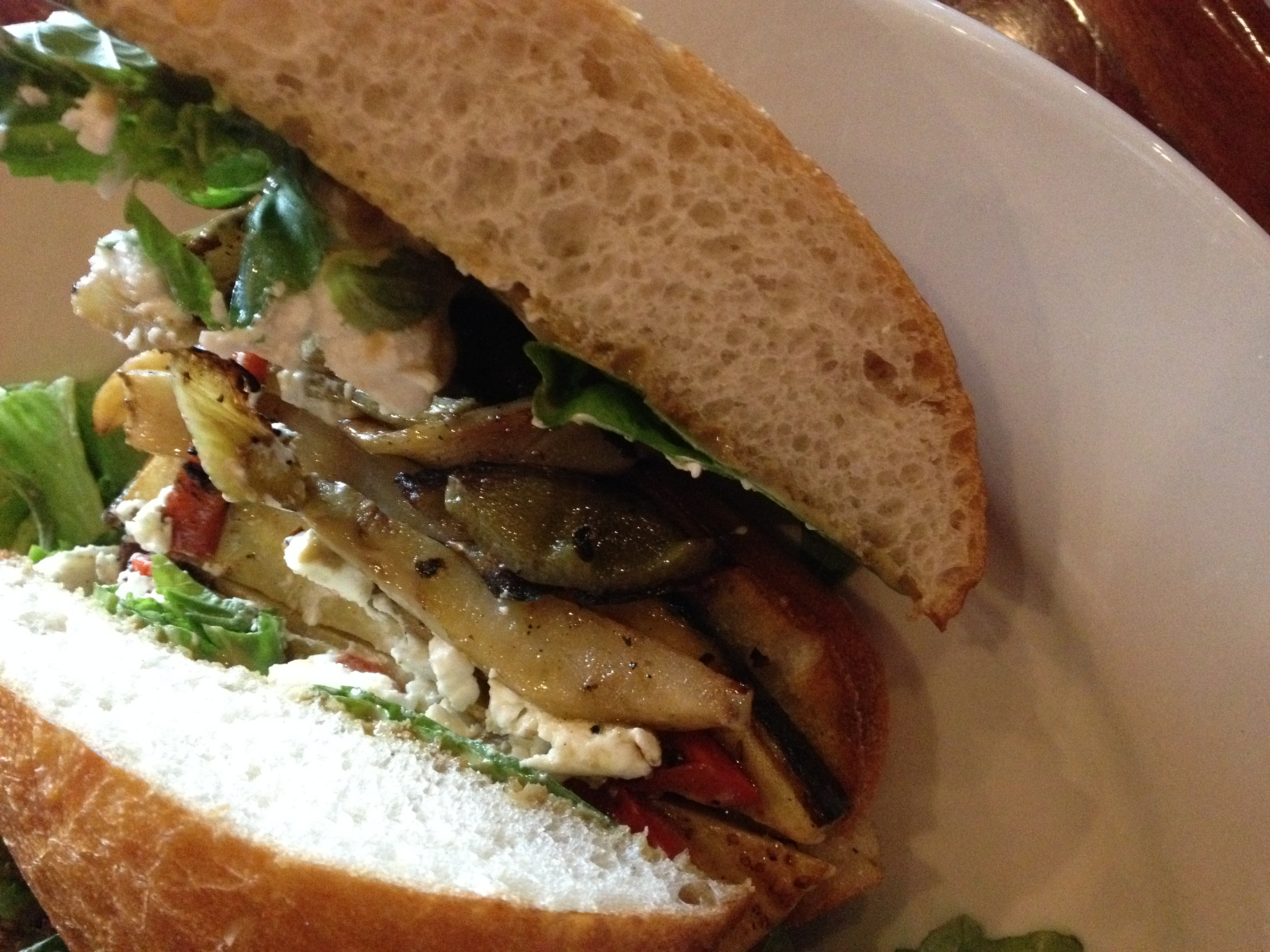 The toddler got to try more veggie burger than I did, but what I did taste was yammy (sic) and savory. On a brioche bun, it was almost decadent.
Fries came out well-done, and well-seasoned, if by "well-seasoned" you mean "on the salty side, but delicious with a nice beer."
A happy hour dinner, with appetizer, two entrees including sides, and a beer, came to $31 with tip.
And even better?
If you eat there today, May 20th, you'll be supporting the Raphael House of Portland, a shelter for survivors of domestic abuse. Sounds like a win-win to me. Good sandwiches, good cause.
If you're reading this later, keep Redwood in mind for an early dinner in the Montavilla area. Happy hour is a great deal, and it's still under the radar compared to its neighbors down the street: Country Cat, Ya Hala, and The Observatory.
I've heard the brunch is good, too. Has anyone tried it?
Redwood
7915 SE Stark St.
503-841-5118
redwoodpdx.com
*I think it's supposed to be REDWOOD, but part of me is just unable to.