When it comes to the holidays, and especially Christmas gifts, I'm not one to stress out that much. I don't think it's in the spirit of the season to spend too much money or worry about making every last thing perfect. Nope, it's more about the time you spend with your friends and loved ones, and they're not worth your gifting efforts if they expect you to go into debt in order to buy them The Latest Thing. (Teenagers are a different breed, I understand. Don't toss out your teens because they're selfish and kinda jerky, as this is their natural state.)
I love getting local food gifts: It supports small businesses in my community, and I get something tasty to eat. We eat fine over here, but rarely splurge on the good stuff….other than beer and bourbon.
But enough about me. Let's make this easy for you, by presenting some of my favorite local finds in this holiday gift guide. See something that sparkles for you? Pick it up for someone on your list.
Or gift it to yourself. You're allowed a couple of those.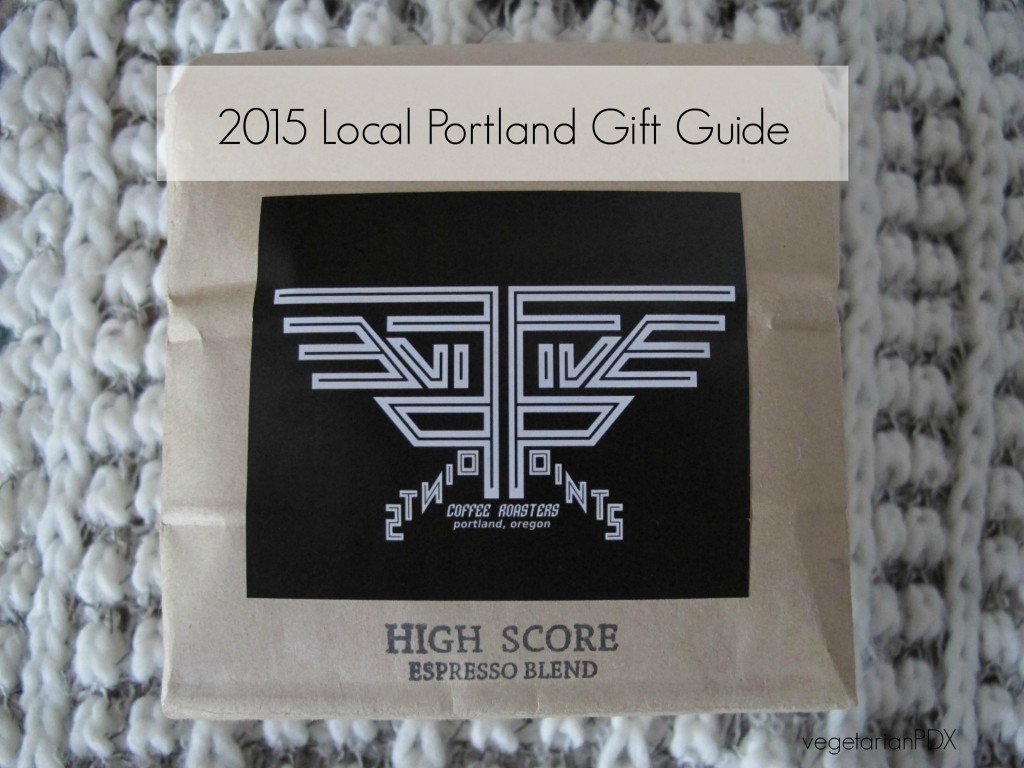 Coffee
Five Points Coffee. This is my favorite coffee company in town. Want to know if you'll love it, too? Enter the sweepstakes below. Grab a cup at Coffee Division on SE 35th and Division.
Of course, there are so many places to get a good cup of coffee, that I'm not sure listing would do much help here. Let me know if you're new to town and need some guidance.
Booze
When it comes to adult people who choose to drink, a bottle of their favorite booze is always a welcome choice.
You could make a hell of a cocktail with this marionberry whiskey from Eastside Distilling that drinks like a brandy. Or, just sip it after dinner because you're classy.
New Deal Vodka is always a favorite, and a straight-forward choice if you don't know the recipient's tastes that well. Or, go with Clear Creek cassis liquor and a bottle of sparkling wine (maybe an Argyle brut) for make-your-own Kir Royale kit. That would make for a festive yule.
Beer
Pop a 22-oz bottle in a stocking and call it good. (Hey, my husband wouldn't mind. Neither would I, really.) Burnside Brewing Oatmeal Pale has been a favorite of mine, but there are oh so many delicious beers in town. Why not get a gift certificate to Belmont Station? Or Beermongers? Or, head to your favorite bottle shop and hit up the clerk for some tips for a make-your-own 6-pack of your giftee's dreams.
Chocolate Treats
Once again, we have an embarrassment of riches in this category. My husband knows that a box from Alma Chocolate is always welcome for any special occasion in our house.
Seely Mints are peppermint patties turned up to 11–and local, too, made with mint farmed near Clatskanie. If you have a mint-lover on your list, pick them up a pack at a Whole Foods or most New Seasons.
Bees and Beans Honey Bars are the definition of quality over quantity. Grownups like candy bars, too, but one of these two-bite bars is just enough to satisfy an occasional sweet tooth. You can find these treats at New American on N. Killingsworth, as well as other fine food stores around town.
Books

For fans of Ken's Artisan Pizza and Bakery, Flour Water Salt Yeast: The Fundamentals of Artisan Bread & Pizza is a must. Yes, the author has access to professional kitchens and ovens, but the book is written to anyone with a little patience can make artisan breads at home. It's on my list, too.
One on my bookshelf from a local author is Brassicas: Cooking the Worlds Healthiest Vegetables Kale Cauliflower Broccoli Brussels Sprouts & More. This handy guide gives you some more ideas about how to cook these tasty vegetables… especially welcome in the colder months, as braising and roasting sound even more appealing.
Buying from your favorite independent bookstore is an awfully nice thing to do, too.
Need some more ideas? Here are some other local gift guides for your perusal, from Everyday Runaway, Bakery Bingo, and Eater Portland.
Okay, pals, I have one bag of coffee that's ready to be with one happy coffee-lover by this weekend! Enter to win today!