I have eaten a LOT of baby arugula salads from Portland Soup Company.
Like, a LOT.
I worked across the street from their cart for five long years, after all. And the only things keeping my from eating a baby arugula salad 3-4 times a week were a) the other delicious food options nearby and b) the other delicious food options also available at that cart. I mean, homemade mozzarella sandwich, field greens salad, or tomato soup, come on. Once you try those croutons, you will only want more.
But, alas, I don't work across the street anymore. I work from home for the most part, and about 95% of our lunches are salads. They're quick and nutritious, and if you want a snack later, that's no big deal. Just go grab one.
Lately, though, I've been thinking about those substantial and inventive salads I used to cop at Portland Soup Company. Then I looked at their old menus for some inspiration.
Behold, the baby arugula salad with oil-poached potatoes, cauliflower, shallots, country olives, "manchego," and crostini with piquillo pepper vinaigrette.
Yes, this salad is truly a wonder. It hits up some of my favorite savory flavors (roasted shallots AND olives? AND roasted cauliflower?), and it's a heavy hitter with the carbs for staying power.
You could even add a hard-boiled egg to this if you want some protein, taking it more in a Nicoise direction. Marinated gigante beans wouldn't be unwelcome, either.
"Geez, that's a lot of words for one salad, Kelley."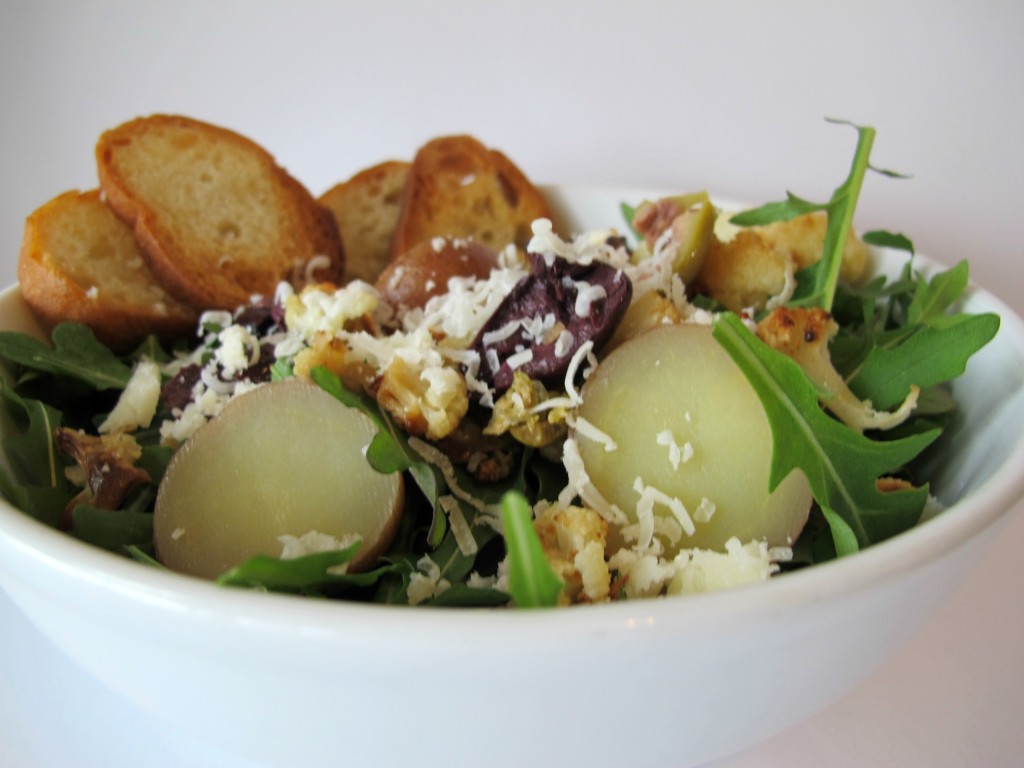 I know. I'm not one to make a big fuss, but I am one to eat a lot of leftover roasted vegetables in my salad the next day. So, I prepped the potatoes, cauliflower, and shallots the night before. That day, I just needed to pit the olives, grate the cheese, and make the vinaigrette.
As for the crostini… well, the Portland Soup Company version had garlic crostini, but I just picked up a bag of plain crostini from Cheese Bar and ran with them. Cheese Bar really set me up, with this manchego-like Zamarano, the olives, as well as the crostini. Maybe a little dark milk Woodblock Chocolate too. What, am I supposed to not buy a Woodblock Chocolate when I have a Cheese Bar gift certificate burning a hole in my pocket?
By the way, don't you love that name? ZAMARANOOOOO!
It maybe wasn't quite the same as my beloved cart makes it, but it still hit the spot. And I didn't have to eat it while dodging questions about paperwork or worry about getting salad dressing in my keyboard.
What's your favorite substantial vegetarian salad around town?