I know, I know! It's March 26th, and I'm just now talking about Portland Dining Month. I'd apologize, but I was in Kauai in the middle of the month, and that is a solid "sorry not sorry" situation.
You still have this week to get three courses for $33 at some of the fancier places around town. You can even sort the list of restaurants by which ones offer vegan or vegetarian fare. That's handy.
Watch for friendly restaurants that'll swap things out for you, or who're more obliging than the official Portland Dining Month website lets on. You might arrive and learn that there are more options available to you.
These are a few of my Portland Dining Month picks.
---
Andina
Even their helpful menu has vegan, vegetarian, and gluten-free options marked.  Looks kind of cheesy, so make sure to specify vegan. Wine pairings, too, if you're into that.
First
CAUSA SOLTERITO: classic timbale of fresh lime-scented Yukon Gold potato with a salad of green beans, fresh corn, cotija cheese and tomatoes, served chilled (GF/VG/V)
Second
QUINOTTO "CHISAYA MAMA": Quinoa "risotto" with Grana Padano cheese, golden beets, mushrooms and local vegetables laced with truffle oil (GF/VG/V)
Third
CHOCOLATE ANDINO: a quinoa flour brownie layered with a rich, gold dusted, chocolate ganache; finished with a seasonal fruit gastrique and avocado creme anglaise (GF/VG)
OR (yay)
ALFAJOR: the classic Peruvian cookie, scented with key lime and filled with manjar blanco (GF/VG)
---
Blossoming Lotus
Always vegetarian, so you'll get a real choice!
First
Dinosaur Kale Caesar Salad withHemp Seed-Cashew Parmesan, Sage Croutons
OR
Warm Roasted Beets & Truffled Chevre Arugula, Sunchokes, Mustard Vinaigrette
Second
Roasted Kale Rapini, Carrots & Parsnips, Black Beluga Lentils, Harissa Vinaigrette and Mint Chutney
OR
Wild Forest Mushroom Risotto, Pea Shoots, Herbed Crema, Hazelnut Parmesan
Third
Live Raspberry Cheesecake with Raspberry Coulis or Warm Apple-Walnut Crisp and Coconut Whipped Crema
---
Burrasca
I haven't been to Burrasca since they moved into their brick-and-mortar, but I often walk by and pine for a babysitter when I see the menu. They were always so kind and accommodating at their cart, not to mention with delicious food. They also promise "special glass pours all month long."
First
Crostoni di cavolo nero: sautéed lacinato kale, garlic, pomarola and pecorino toscano on housemade tuscan bread
Second
Tagliatelle alla norcina: handmade spinach ribbon pasta,, leeks and light béchamel, parmigiano-reggiano vegetarian version with sugo finto
Third
Torta di ricotta: ricotta, citrus, grappa, ground almond crust, candied orange salsa
---
There are still a few tickets left for vegan popup meals! If you need a unique Saturday date option, you're set.
Appetizer
Savory Tomato Stew with Plantains: savory tomato stew flavored with African spices, paired with fried ripe plantains, and peppered coconut.
---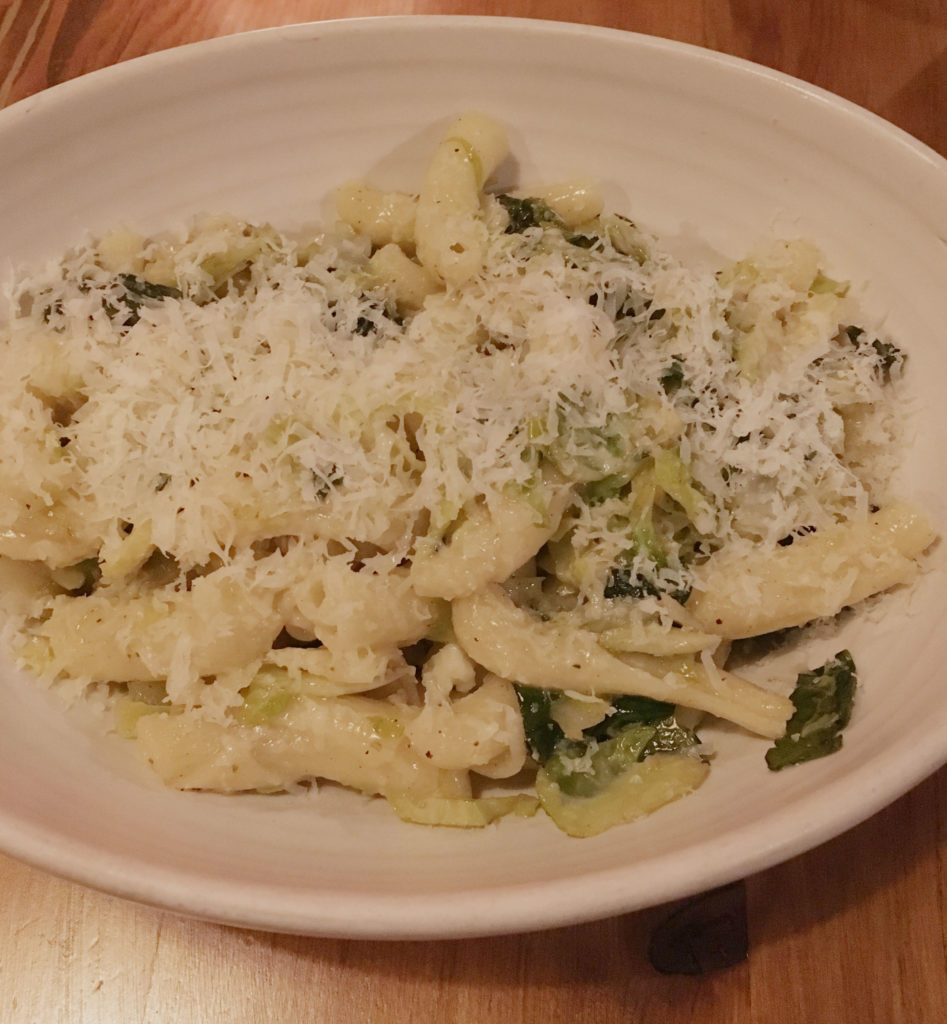 I went to Renata last week, and they had an *unadvertised vegetarian option.* I explained to the server that I was vegetarian, so maybe crostini and pizza was a bit too much bread. She suggested a vegetarian pasta dish with Brussels sprouts. It's possible that I was a bit jealous of our neighbors' pizzas, though.
Some people got pizzas to go.
I might suggest this.
And make a reservation.
Portland Dining Month
All March long… so until Saturday
3 courses for $33
---
What's your best vegetarian Portland Dining Month bet?