Slowburger may be in The Ocean, but it's not an island unto itself. Nope, the burgers here had their beginning at a  louder, cooler, and somewhat grittier location at Slow Bar on Grand, where they became well known enough to warrant branching out to this small location. Slowburger just does burgers, but you can see why.
There's just one main option for vegetarians at Slowburger. Guess. DING DING. That's right! A veggie burger! Described thusly: Black bean and roasted corn patty, pepper jack, guacamole, fried corn tortilla strips, and chipotle mayo on a Grand Central brioche bun. Choose a 1/3 pounder for $8, or a "mini" for $4.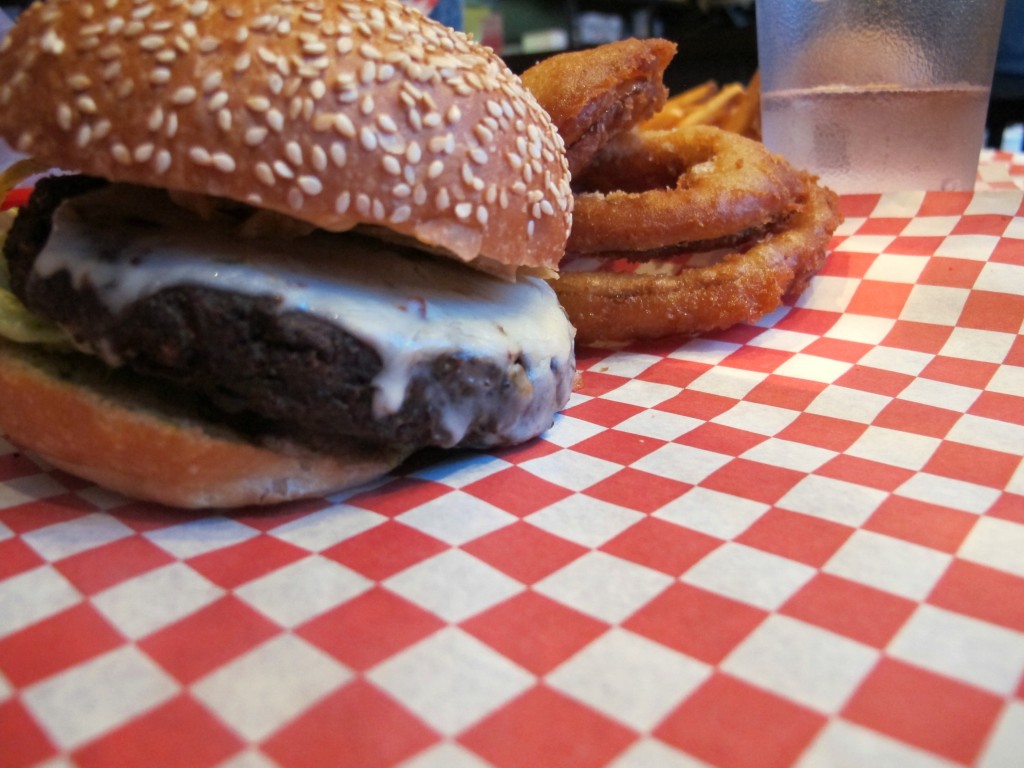 The 1/3 pounder comes out looking very manageable. Not too tall to fit into your mouth. Not messy. Not big in diameter. And that "small side" of onion rings had only three rings to split between the two of us. Add the "small" fry to share, and it would probably be enough to eat, I thought… until we got done. These veggie burgers are filling, friends. I bought my husband a peanut butter-chocolate pie at Pie Spot to have for dessert, and he turned it down because he was too full. (I am Never Too Full For Pie; I ate half of it.)
The verdict on the burger? Beany with a surprisingly crispy exterior on the patty. Held up to being cut in half (with a plastic knife, fyi), and ate cleanly. The chipotle mayo is an excellent choice to add some zip, and the patty held up to the moisture of sauce and guacamole.
While the mini veggie burger was just a little too big for our two-year-old to finish, it might be about your speed if you have a smaller appetite. Or, if you're in the mood for a burg but you're trying to eat light, there's always the mini and salad (spring greens, $2) option.
As with any other mini restaurant in The Ocean, there's limited seating inside, and the action really heats up in the summer as the outdoor patio fills up.
2329 NE Glisan St.
503-477-5779
slowburger.net
Have you been to Slowburger? How do you feel about tortilla stips on a veggie burger?