The first time we went to the Bollywood Theater on SE Division, we knew it was popular. And as soon as we got there, we saw the evidence in the form of a line snaking to the door and for maybe fifteen feet outside. In late December.
Eventually, we made it in. The line moves slowly by design, because they're not going to take your order and then expect you to fight for a seat or hover. They'll make sure there's a space for you. That's a relief. As a denizen of the Passive Northwest, I'll take that over cutthroat seat hovering every time.
We liked Bollywood Theater a lot the first time, especially the kati roll with paneer, but didn't get back for a while. Last weekend, we decided to head back and try a couple of new things.
Plus the kati roll.
(It's really good.)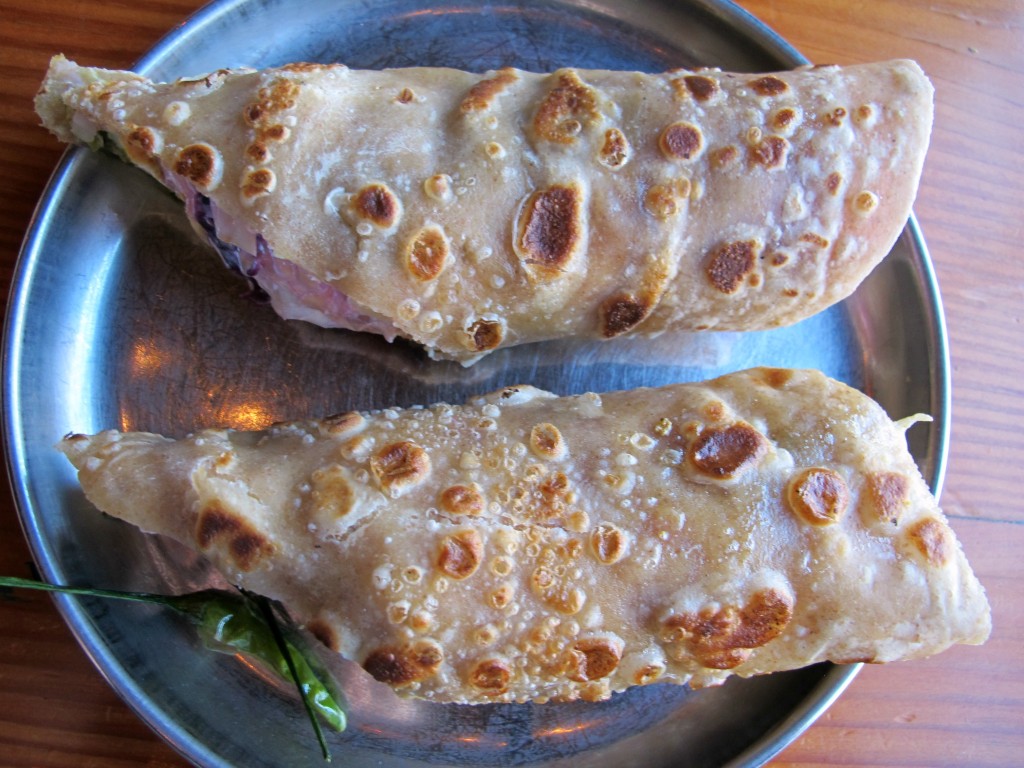 This time, we went at a toddler-friendly 11:15 a.m. There were just a few families there when we arrived so soon after opening. By the time we left, though, it was closer to half full.
Bollywood Theater promises "Indian street food" in a casual and colorful atmosphere. Vegetarian meals are a natural part of this Indian menu: traditional pastries, chaat, a sandwich, small plates with house-made paneer. If you'd rather not pick and choose, get a vegetarian thali meal that includes paneer, egg curry, saffron rice, sambar, dal, raita, paratha, and green chutney.
We ordered Kati Rolls (paneer, egg, pickled onion and green chutney rolled in paratha), Gobi Manchurian (Indo-Chinese fried cauliflower with lemon, curry leaves, and a sweet and sour sauce), and Aloo Tiki (pan-fried spiced potato patties served with chickpea chole and green chutney). All of these dishes were off the "Street Food" portion of the menu. There are also small plates, like house-made paneer in tomato and cashew curry served with saffron rice, or coconut curry. And sides, too. I hear good things about the okra.
Vegetarians can eat very well here, just as you might expect at an Indian restaurant. Just double-check on your order, as vegetarian items weren't marked on the menu.
The fried cauliflower was freaking fantastic. Between that and sharing the Kati Roll, we didn't finish the potato patties, which weren't quite as thrilling. However, I did use the leftovers to make some pretty kicking veggie patties the next day.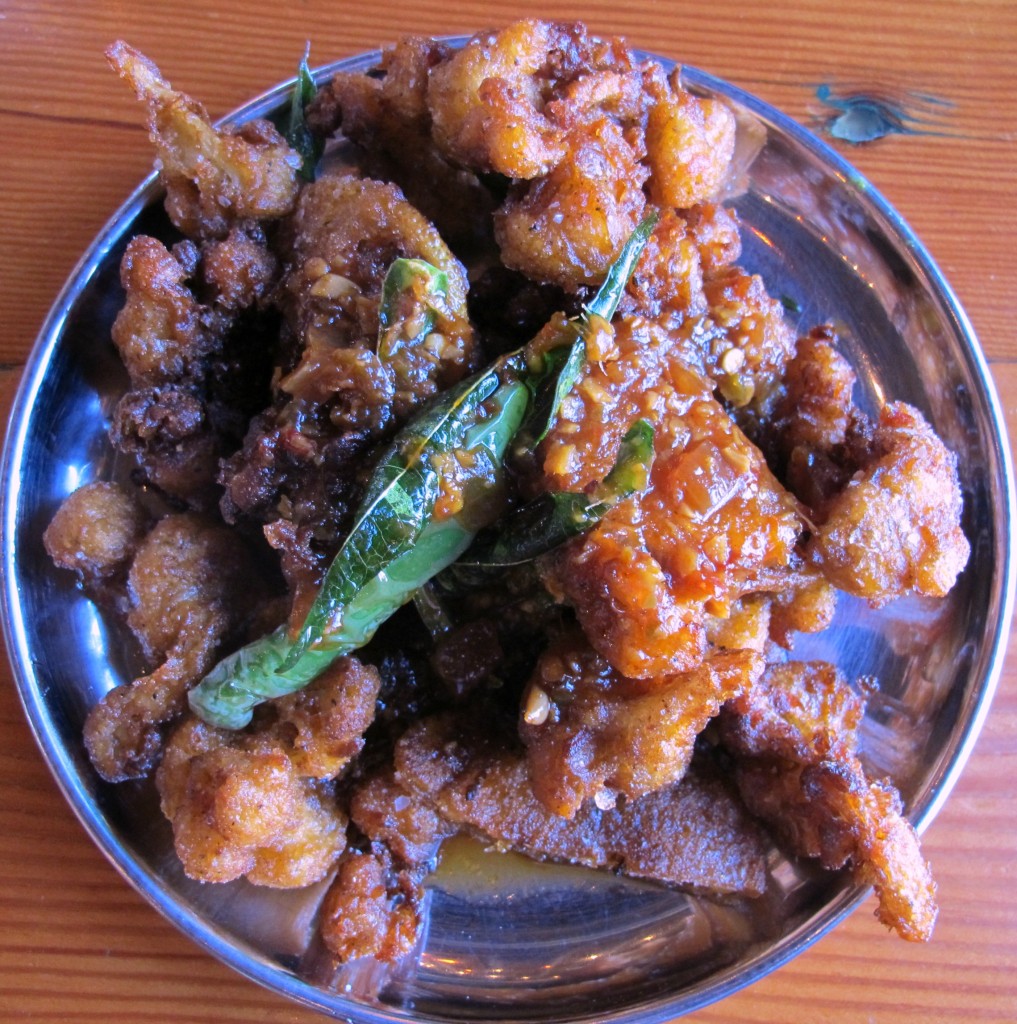 Nothing we ordered was aggressively spiced or especially hot. It's flavorful, freshly prepared, and if you pick around the hot sauce, it's mild enough to share with kids/grownups who can't handle the heat. That's not bad in my book. If you want hot spicy, chutneys with spice warnings are waiting for you on the condiment bar.
Speaking of which: This is a counter-service restaurant, with plates, water, and silverware all self-serve. It doesn't bother me—I'd rather grab my extra plate rather than flag someone down for one when they're busy—but this is a casual place.
"You're drinking out of a steel cup and eating off a steel plate just like you would if you were in Mumbai. I want people to have that experience, as if they have gone some place," says the owner.
Since I originally wrote this post, I've gone back a few times a year, and to be honest, I always just get Kati Rolls and Gobi Manchurian. It's just become one of my go-to Portland meals, and I've never been sorry to order it. For lunch, I like to bring a date and share one order. For dinner, the full Kati Roll will mean you'll need to take a long stroll before you think about getting in line for Salt and Straw.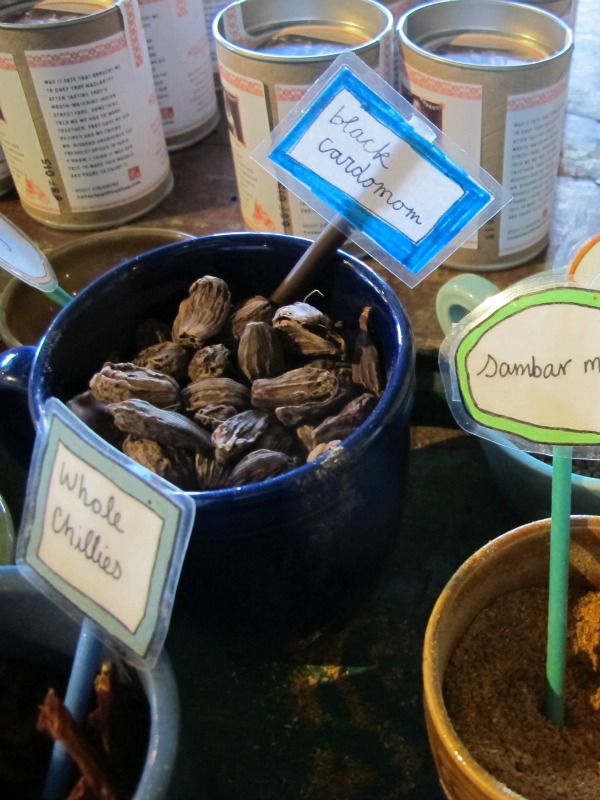 Vegan items aren't marked, so ask about ghee. You're probably looking at those potato patties, papadums, sambal, and some of the veggie sides. Check the specials board, too.
The Division location also houses a market, where you can buy Indian staples (rice, lentils) as well as paneer and an array of their house spice blends.
Bollywood Theater
Have you been to Bollywood Theater? What's your favorite vegetarian item to order?
*Originally posted 12/02/2015. Updated 7/17/2019.