"We're going to a restaurant tonight. What kind of restaurant would you like to go to?"
"Ice cream restaurant."
Well, I don't know what I expected when I asked my two-year-old, but as soon as I heard his reply, I knew where we'd go: Lovely's Fifty Fifty, a Mississippi Avenue restaurant serving pizza and homemade ice cream, and one been wanting to visit for years. Destiny!
We arrived shortly before 6 pm to a dining area fronted by an ice cream case, with only a few tables being taken up. By the time we left (after 7; our first pie got a hole and had to be remade; c'est la pizza vie), there were no empty tables in sight.
At the back of the room, a wood-fired oven blazes appetizers as well as blistered pizzas made with naturally leavened dough.
We ordered a cauliflower appetizer (oven-roasted cauliflower with currants, golden raisins, and toasted almonds, $9), a kid's pizza ($7; huge for a toddler; he ate half), and a 12″ pizza to share. Husband and I each ate two pieces of the six-slice pie.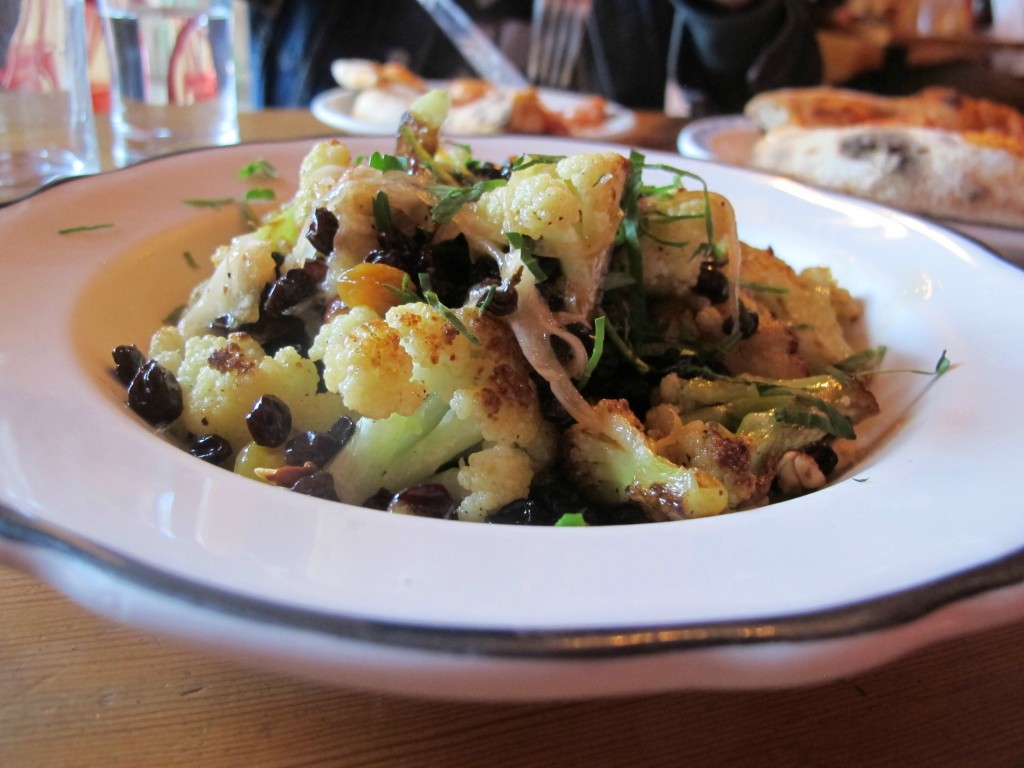 All pizzas are 12″, with local, organic, and less-than-ordinary toppings available. Beside the pizzas on the menu, one can add calabrian chiles, a farm egg, or arugula. That's the extent of (vegetarian) extra toppings.
Do you ever get a craving for savory? Not sweet, not salty, but straight-up-umami? Behold umami in pizza form: spinach with crushed tomatoes, fermented chiles and carrots, capers, and goat feta.
It's not very often that I actually say "mmm!" out loud, but it popped out involuntarily on this one. The pizza so much more/less than the description, which sounds like there could be a mound of salad on a pizza. Fermented chiles and carrots? You wouldn't have guessed that there were carrots on the pizza, but the chiles lent a funky heat. Very tasty. I can't wait for my leftover slice.
After dinner, naturally, we needed a couple of scoops of ice cream. It's an "ice cream restaurant," after all. What would you choose from this lineup of flavors?
Salted caramel
Buckwheat honey & toffee
Mint vanilla bean
Malted milk ball
Candied kumquat
Quince butter
The toddler wanted malted milk ball, and I got candied kumquat which, understandably and completely predictably, blew out my taste buds with bitter kumquat. They were not that candied. Now, I'm a fan of bitter. I'd volunteer to carry the banner in the Bitter Appreciation Day Parade Sponsored by IPAs of America. But it really doesn't help you judge the quality of the ice cream.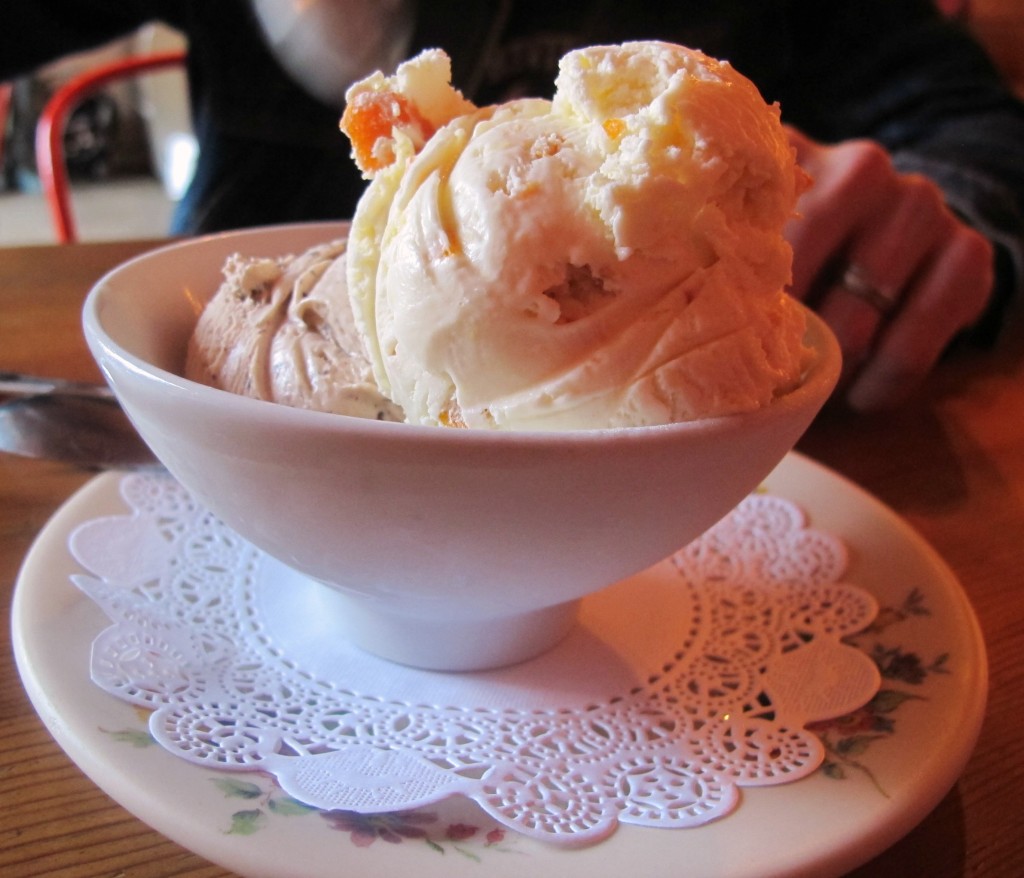 By 7 pm, plenty of people were coming in just for a ice cream cone, which they could eat while strolling down Mississippi or on the little front porch.
Guess we'll have to come back to try some more flavors. Summer's coming, after all.
lovelysfiftyfifty.wordpress.com
The gluten-free are warned that there's a lot of flour flying around the kitchen. No gluten-free pies, and be aware that wood-fired appetizers share space with wheat.
Vegans will make out just fine if you don't mind ordering a few things without the cheese. Check the seasonal menu ahead of time.