It had been a while since I'd been to Meat Cheese Bread.
My husband and I used to walk over there every few weekends to grab their famous breakfast burritos. These are, very nearly, the Platonic Ideal Breakfast Burrito. The balance of ingredients is perfect, with a bit of egg, cheese, green chile, and hash browns in each crunchy bite. The hash browns are crisp and flavorful. The tortilla is lightly toasted. It's just the right size. Add avocado, if you're like me, and you are in for a TREAT, my friend.
Then, our landlord raised our rent about $400 (when I was 7 months pregnant, we mustn't forget), so that was it for walks to Meat Cheese Bread. Goodbye, Buckman neighborhood. Goodbye, burritos. I know people who make treks across town to get breakfast burritos, but that just wasn't happening after the kiddo was born.
For the most part, Meat Cheese Bread holds true to its name—most sandwiches are meat-heavy. But they also have a vegetarian option or two at any time. Right now, they're offering a regular "borscht sandwich" with "roasted beets, pickled veggie choucroute, and dill cream on ciabatta." If only I liked beets.
But I happened to be in the neighborhood just at the time they had a caprese sandwich special. Okay, maybe I saw that they had a caprese sandwich special, and I made arrangements to be in that part of town. My P.O. Box is still there, so I swear I had Official Work Business to attend to. Yes. ANYWAY, I picked up this caprese sandwich. The pesto didn't have that strong of a garlic punch, for better or worse. For me, I wish it had been stronger. Mozzarella and tomato stand up to that pungency so well.
The size was perfectly reasonable for one grownup person. I understand it's expensive to live in the neighborhood now for people and for businesses, but $9 is at the upper range of what I'm willing to pay for a sandwich. With fresh summer produce and local bread, though, I felt good about each bite. It's great to see veggie specials. Keep them coming.
When you're in the neighborhood, don't forget to stop by the vegan shopping mall. Looks like Herbivore has some cute new shirts in, and there's never a wrong time for a cookie from Sweetpea.
I've also been told that you can take the sandwiches from Meat Cheese Bead to the bar next door, Beer. That bar and bottle shop just happens to have plenty of air conditioning. You are welcome.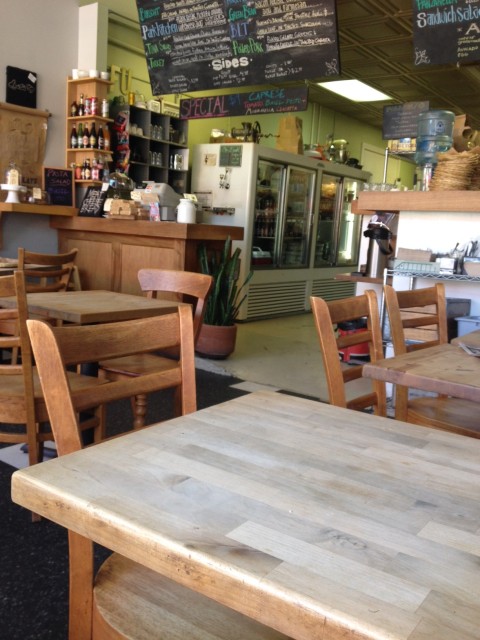 Meat Cheese Bread
1406 SE Stark St.
503-234-1700
meatcheesebread.com