The Pepper Box Cafe is not a swanky joint.
A lot of people talk about "old Portland," and how it's been lost, how condos are ruining our way of life, etc. I don't want to get into that can of worms, but I can say that I was born here, and I know a bit of that old Portland. I mean, I'm only 35, but I saw shows at La Luna and drank mopey coffees at Umbra Penumbra. Old Portland was a little bit damp and shabby, but not always in a bad way. It was just a bit rough around the edges, and that's part of what's missing in these sleek glass buildings that're replacing torn town Victorians.
We stopped in to the Pepper Box Cafe yesterday after a couple of errands in the morning, hoping to take advantage of receding waters and a forecast for only "light" rain after a day of being stuck inside with soaking rains and widespread flooding. Inside, we found a few tables, a menu across the back of the room over the counter, and another room off to the side, through which you can see the kitchen working away. The patrons–all dudes other than me that I could see–looked like they were out of a central casting call for "working men trying to stay dry on a wet day." No suits, no Gore-tex, no North Face. Everyone seemed to have a hat, for function rather than irony.
The employee at the counter kept leaving us because he had to run food, apologizing every time. We didn't mind, because there were lots of vegetarian options. It took a few minutes to decide.
Pepper Box started out as a food cart with a reputation for killer New Mexican food featuring green chile. That reputation earned them the opportunity to move into a brick and mortar after closing the cart in late 2013. Now they sling tacos, migas, and a lot more, all with those New Mexico flavors. Lots of those items have friendly little (V)s next to them, marking vegetarian items. Choices are tough here, as all breakfast and lunch items are served during open hours. Breakfast tacos? Huevos Rancheros? A torta? GREEN CHILE MAC AND CHEESE? Wait, I need to go back.
And if I didn't already feel welcome, on the wall, there were hanging scarves from Portland sports teams. There was a Timbers scarf, of course. Blazers. Winterhawks. Thorns, which is always nice to see. And… a Rose City Rollers scarf? There aren't even many of those in existence! My heart grew two sizes as I waited for my food. This business has only been here a couple of years, but it feels Old Portland to me.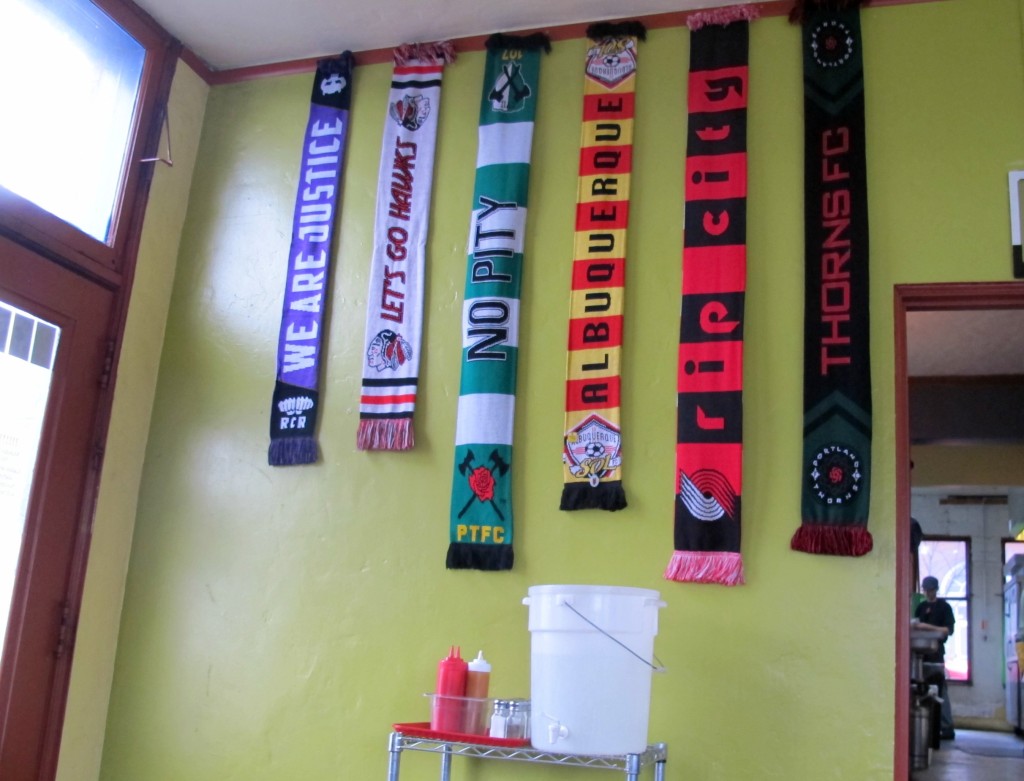 We took our meal to go, but don't worry–we sneaked a few french fries while we were in the car, because one cannot fairly judge french fries after they've travelled across town, after all. They were crispy and hot, with a dusting of seasoning that could've used a bit more salt. But when we got home and some of the cheesy torta filling fell out, I mopped it up with a couple of fries… heaven. I'm not a cheese fries person, but I could change my mind.
"How can they keep their prices so low?" my husband asked as he munched on his lunch. I wondered the same thing. We ordered the Calabacitas Torta (with corn, squash, green chile, avocado, pinto beans, cheddar cheese, tomato, and green chile crema, comes with fries), the La Vegi-Tator (tortilla sandwich with potatoes, mushrooms, onion, peppers, pepperjack, and chipotle crema), and a kids' quesadilla, and the total was $13 before tip. And we didn't even finish it all. "There's still a half a quesadilla left," I offered as we were finishing our plates, and he just laughed.
I suppose I don't have to put this nicely because I'm not naming any names: I've had a lot of bad vegetarian tortas, all shredded lettuce and flavorless beans. This one? Lovely. The corn may not be in season, but the zucchini was cooked to a savory perfection. You know when you're raving over zucchini, that these people are aware of how to cook vegetables. The green chile was present, with a slow building heat that you notice, but not too keenly. Add salsa if you want more of a kick. The torta is definitely a fork-and-knife affair, or get lots of extra napkins. The ingredients suited each other and the flavors were well melded. A hell of a vegetarian torta, I'd say.
The La-Vegitator made a bit less of an impact, but it was more of a workhorse, like a big breakfast taco without the egg. The housemade tortilla is thick and fluffy, and holds up well. Next time, I might not order something so potato-heavy when we're also sharing an order of fries, but no potato regrets. A woman needs some carbs as we head into the long rainy season.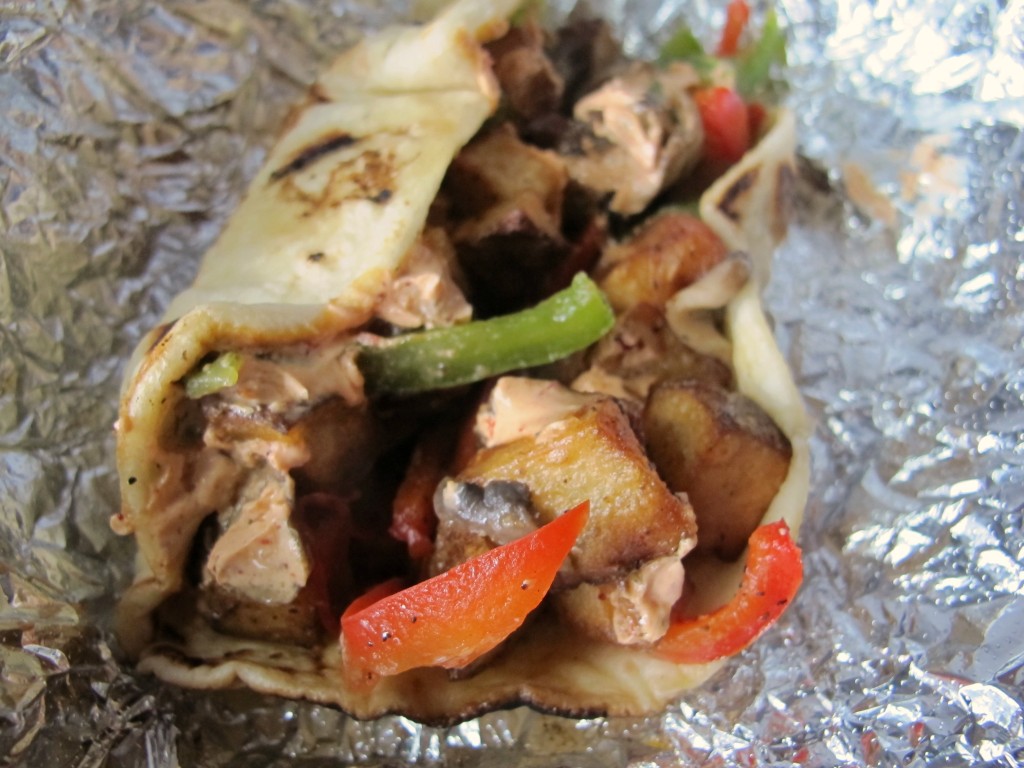 Pepper Box Cafe isn't anything fancy, but it is something special. They know good food (and good sports teams), with no pretension for breakfast and lunch.
Pepper Box Cafe
932 SE Morrison St.
503-841-5004
pepperboxpdx.com
Have you been to Pepper Box Cafe?