We needed to head to Powell's on Hawthorne to pick up a book I had held there–don't tell the toddler that he's getting the book that he's been asking for every day since we had to take it back to the library–and I'd been meaning to check out Harlow for some time. After my kid-friendly and vegetarian-friendly post, a couple of people suggested it. I'd never been to Harlow or its sister restaurant, Prasad, in the Pearl District. And now there's a Prasad East. It was about time I checked out this burgeoning restaurant empire, and if I could cross something off the Christmas to-do list at the same time? Even better.
Harlow serves a "fresh conscious" menu: Instagrammable vegetarian bowls, soups, salad, and entrees for breakfast, lunch, and dinner. Then smoothies and juices. And beer, wine, and cocktails. And kombucha, natch.
The dining room is classed-up rustic, with re-finished tables and mismatched chairs, well-lit with chandeliers, and mirrored walls. You order at the counter, and food's brought to you. When we arrived just after six, the place was a bit less than half full. We didn't get exactly the table we would have picked (the booths are probably where it's at), but we didn't have any trouble finding a place, either. As we were wrapping up our meal, a longer line was forming, and the place was starting to feel full with all kinds: Young couples out on dinner dates, solo diners, people out for post-dinner work chats over green juice, gal pals having a chat over coffee.
And, of course, there were a couple of families with kids, too. This is a family-friendly-place, after all. I spied exactly one high chair, and there's a limited kid menu: for dinner, beans and rice, or (vegan, gluten-free) mac and cheese. We went mac. The kids' mac and cheese must be different than the ones for grownups on the menu, as I didn't detect any Daiya cheese. Then again, my vegan cheesedar is not all it could be.
I got the curry peanut salad, with "shredded kale, purple cabbage, spinach & rice noodles tossed with curry peanut sauce & toasted sesame tempeh, topped with cilantro, mint, sesame seeds, pickled onions & crushed peanuts." Well, that's an example of the utility of the Oxford comma, but that's not what we're here to talk about. (OR IS IT.) Re-typing this makes me realize that I just assumed it was just a plain ol' vegan peanut sauce, as I didn't detect much curry if any. Disappointingly, the noodles were slightly underdone. Rice noodles are a great simple pleasure of mine, and it made for a less harmonious whole. However, the tempeh was cooked well, with some crispy edges. Tempeh has a texture problem, but they're smart here to use one-inch cubes for a good ratio of crisp to soft/grainy. Pickled onions are always a welcome touch, as are (for me) cilantro and basil: I could have used more, but I'm an herb glutton. There were also a few ribbons of carrot in my salad.
My husband got the Three Sisters Enchiladas, which has a lot of things to re-type here, but here we go… "corn tortillas stuffed with spinach, southwestern spiced mushrooms, peppers & onions, topped with ranchero sauce, jalapeno cashew cheese & cilantro, served with brown rice, cilantro, & stewed black beans with corn." My bite was not that thrilling, but apparently I just needed a bigger one. "Did it feel like it was missing something without cheese?" "It had cheese, didn't it?" "No, it had vegan cashew cheese." "Oh, well, it was good!"
And there was plenty of guacamole. We salute hearty mounds of guac.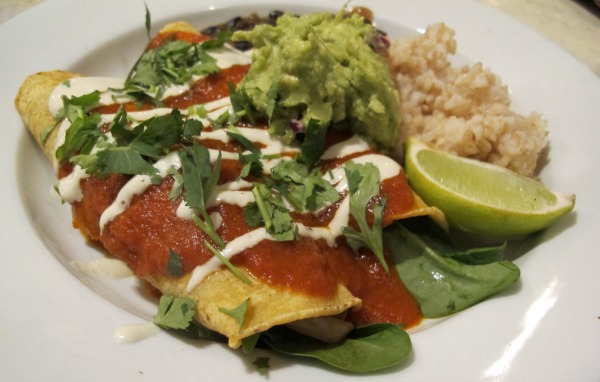 When you think of "vegan" and "kid-friendly," with counter service and serve yourself water and condiments, you don't often think of chandeliers at the same time, but that's Harlow. The food wasn't a standout for me, but their commitment to using local and responsible food sources is commendable: In that context, $11 for enchiladas and $10 for a salad is more than reasonable. I took some of my salad home for lunch the next day, too, and the husband was very sated by his plate (and beer).
Harlow also does breakfast, brunch, and appropriate drinks (Trailhead Coffee, Kombucha, cocktails, smoothies) available alongside. In the morning, eggs are served as well as tempeh for scrambles. Other those "farm fresh eggs," it's largely vegan, all vegetarian, and completely gluten-free.
If you're gluten-free, or if you want to eat a substantial but healthy organic meal, Harlow could be right up your alley.
Harlow
3632 SE Hawthorne Blvd.
harlowpdx.com
Have you been to Harlow? What did you get?