Our Taco Tuesday at Stella Taco started with a spicy bang.
My husband was trying the fried avocado taco. "This is better with the hot sauce," he offered.
I was trying the black bean, which came with marinated jalapenos. "I can't even think about that right now!" I countered, just before taking another sizable gulp of my Negra Modelo.
It was maybe a spicier jalapeno.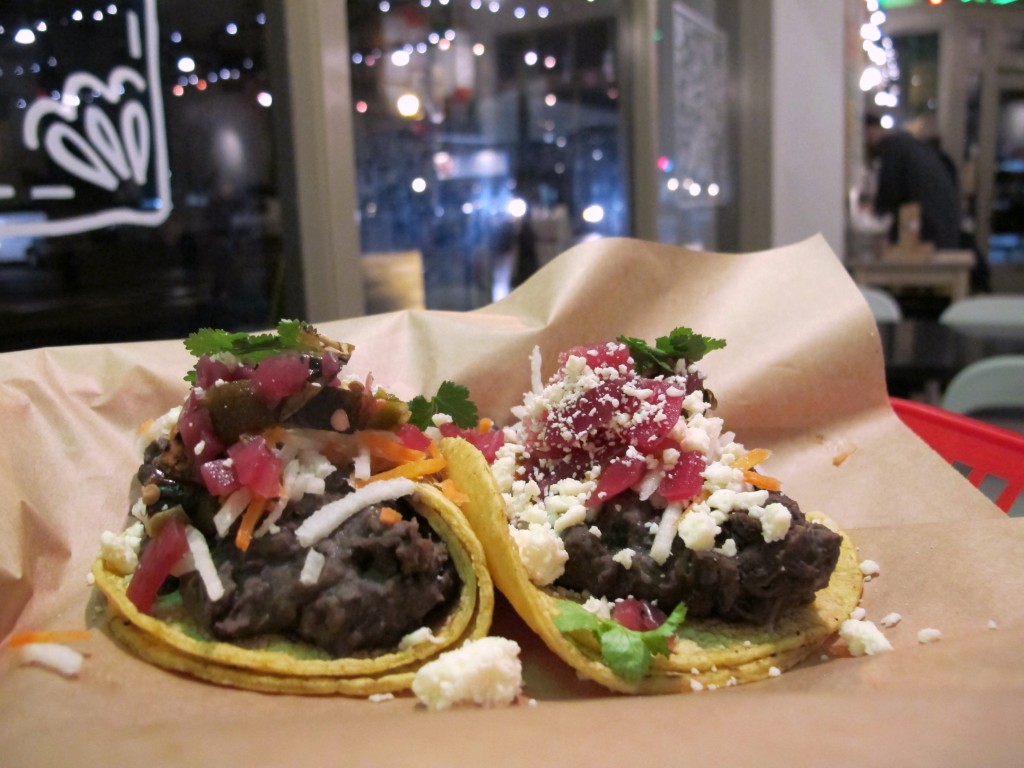 Stella Taco is a new taco joint, just opened in… August 2014? Wow, time flies. I'd been meaning to get here for a while. They serve three vegetarian tacos:
Fried Avocado: Hand battered avocado, grilled onion slaw, roasted mushroom sauce, cotija cheese (vegetarian)
Black beans: Vegan smashed black beans, soy marinated jalapeños, honey pickled carrots and onions, cotija, cilantro (vegetarian)
Mole: Spice roasted mushrooms with mole ancho. Crispy potatoes, green onion. (vegan)
There are also breakfast tacos available until 3pm. They aren't marked as vegetarian on the menu, but I bet if you ask real nice that they'd make sure they were vegetarian for you. I doubt that they hoard the vegan black beans just for dinnertime.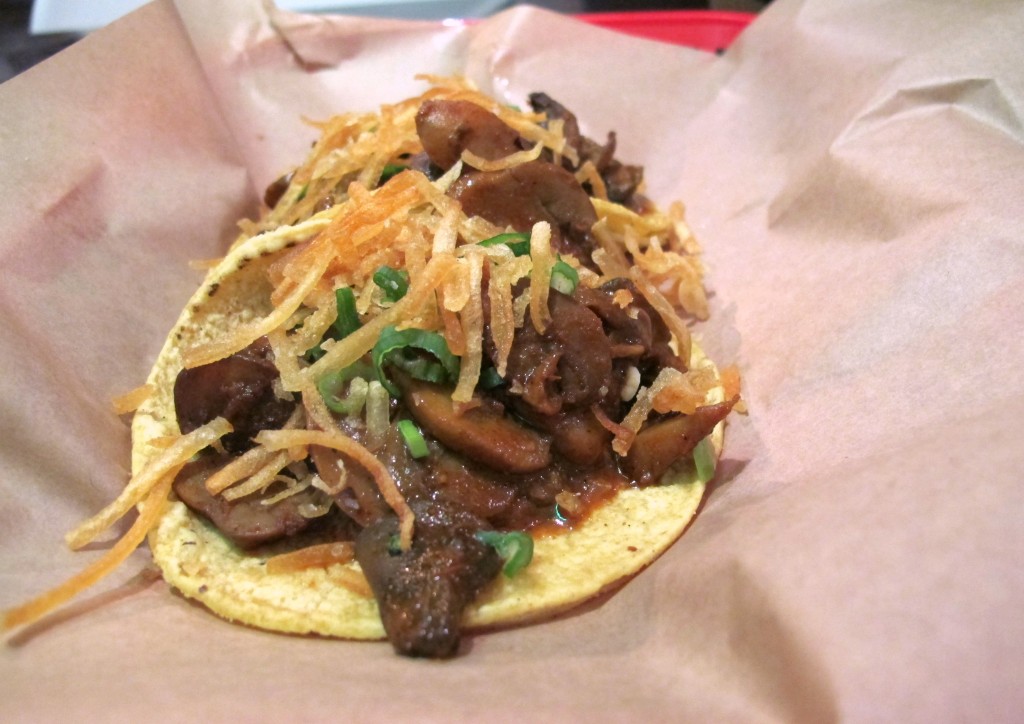 These tacos are completely edible using one's hands, if you so choose. There are napkins on the table, but you won't need to go through 20 of them just to keep your hands reasonably clean. Some of the tacos we've had lately are too wet or saucy to eat cleanly, but these are a welcome change. (Sorry if that seems prissy, but hey, I'm me. I'm Kelley, and I don't want mushroom juice dripping down my sleeve while I'm eating.)
BTW, they do have a kids' menu, with quesadillas, tacos, and a bean and rice bowl available for the little ones. There are high chairs, too, as well as games and crayons for older kids. Or grownups. We got there early, so food came out early enough that we didn't even have time to think about distracting the two-year-old.
Chips and salsa came out first, with a finely pureed salsa without too much of a kick, and thick seasoned chips. It didn't quite scratch that "restaurant chips and salsa" itch, but next time I'm game to try those chips with guacamole. When a place lists their local purveyors on the wall, you know they probably do the fresh and simple things with good ingredients. At least one would hope.
Our meal, with six tacos, chips and salsa, a kids' quesadilla, and two beers, added up to $25.50 before tip at happy hour, and we were definitely full. Go an hour later, though, and you'd be looking at $31.50 for the same order. They recommend 2-3 tacos per person, and so can I: maybe two at lunch and three for dinner. You could get out of here at lunch for $7 if you weren't starving.
Order at the counter, and you'll get a number to take to your table. Word to the wise: That number is supposed to hang above your table, next to the hanging plants, on the provided hooks. We didn't figure that out until ten minutes after our food came out.
2940 NE Alberta St.
971-407-3705
stellatacopdx.com
Have you been to Stella Taco?